Colorado Springs Citadel Mall Sold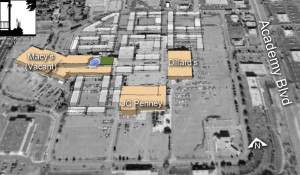 This week a New York investment group paid $20M for The Citadel Mall. Last time The Citadel Mall sold (2007), it went for $153.2M, nearly 8x what it went for now (2015).
The mall opened in 1972 and has been a staple in the community for years, but stores have been closing as Colorado Springs flows north, and shopping has followed that northern growth. At its peak, the million SF building attracted large crowds.
Mason President Elliot Nassim told KRDO NewsChannel 13 that the company doesn't discuss future plans for the properties that it buys, but the community is holding its breath that now that The Citadel Mall sold, the structure will be improved. A website devoted to this topic can be read at Urbanlandscapes by clicking here.
Read more in The Gazette by clicking here.
Read more on KRDO by clicking here.