Colorado Springs Children's Hospital Construction Takes Off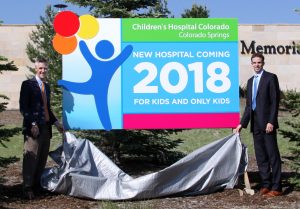 As of today, if a child needs the special care a children's hospital offers, they have to go as far as Denver. But by 2018, Colorado Springs will have it's own free-standing, five-level children's hospital that includes a neonatal intensive care unit, a pediatric intensive care unit, a designated space for behavioral health treatment, and the Center for Cancer and Blood Disorders.
300 people attended the groundbreaking ceremony at UCHealth's Memorial Hospital North campus on Wednesday, celebrating the beginning of the construction process.
"The groundbreaking ceremony demonstrates our commitment to construction in the near future," Greg Raymond, regional vice president of Children's for southern Colorado said Wednesday. "It was an opportunity to pause and recognize the investment of team members, developing plans and our community partners who've supported the project. It was an opportunity to celebrate our success to date."
Click here to read more on CSBJ.com